What items did you use?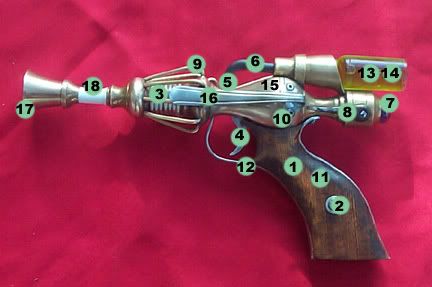 I used all 19 items on the list.....
8 items found outside.
1. A 1" thick board
2. Two bolts and washers from a lawn mower hopper
3 About one foot of Dan-D-Line (plastic covered aluminum cloths line)
4. A small piece of a metal bracket
5. A ¼" bolt
6. About 2 ½" of heavy electric wire
7. A glass "jewel" from the garden
8. A latch to something...
3 Items from a Hardware store
9. 1/8th inch Brass rod
10 Pop rivets
11. Wood stain
1 Item stolen
12. A Stop sign that Chinarose stole, then I stole it from her….
2 Items from the bathroom
13 An empty jar (it use to hold liquid latex)
14 Mouthwash
1 item from a friends house
15. A brass candlestick (I think Carol bought it at a yard sale for me…..
)
1 Item from a café.
16 A tablespoon
2 items from a toy store.
17. A cannon ball from a Pyrate play set.
18. The cap from a non-toxic watercolor marker.